---
CURRENT PROGRAMMES

PAST PROGRAMMES

GALLERY GUIDE

---

SHARE ILHAM

---

Share your experience at the exhibition using the hashtag #ilhamkl
PROGRAMMES
---
-
Fracture/Fiction: Selections from the ILHAM Collection
21 July - 10 November 2019
JULY 2019
27 JULY 2019
3:00PM - PANEL DISCUSSION: Interrogating The Political Through The Arts
---
AUGUST 2019
3 AUGUST 2019
SYMPOSIUM - Outliers, Rogues, Fugitives and Artists: Mythologies And Futures
10:30AM–2:30PM - ILHAM WORKSHOPS: Penang Assam Laksa Miniature Workshop
10 AUGUST 2019
10:00AM - 12:00PM - ILHAM WORKSHOPS: Kids Weaving Workshop
2:00PM - 4:00PM - ILHAM WORKSHOPS: Storytelling Let's Try Something New And Batik Painting
3:00PM - ILHAM CONVERSATIONS: Collecting Art From The Region
17 AUGUST 2019
3:00PM - MUSIC AT ILHAM: Mahakarya Studios
18 AUGUST 2019
Rediscovering Forgotten Thai Masters Of Photography Exhibition Ends
24 AUGUST 2019
​2:00PM - 5:00PM - ILHAM WORKSHOPS: Paper Quilling Art
3:00PM - ILHAM CONVERSATIONS: Pornsark Sakdaenprai
25 AUGUST 2019
​3:00PM - FILM SCREENING: Thailand's Rebel Artists
---
SEPTEMBER 2019
7 SEPTEMBER 2019
10:30AM–12:30PM - ILHAM WORKSHOPS: Colorpy Painting In Water Workshop
11:00AM - ILHAM TOUR: Fracture/Fiction
3:00PM - ILHAM CONVERSATIONS: Featured In Fracture/Fiction: Mithu Sen
14 SEPTEMBER 2019
EXHIBITION AT ILHAM (LEVEL 3): Kuala Lumpur International Photo Awards 2019 Exhibition
15 SEPTEMBER 2019
11:00AM - 2:00PM (SESSION 1): ILHAM WORKSHOPS: Photography Workshop: Mother, Father, By Son, Daughter
21 SEPTEMBER 2019
​ILHAM WORKSHOPS: Taoyi Pottery Workshop
SESSION 1: 10:00AM–12:00PM
SESSION 2: 1:30PM–3:30PM
22 SEPTEMBER 2019
11:00AM–4:00PM (SESSION 2): ILHAM WORKSHOPS: Photography Workshop: Mother, Father, By Son, Daughter
28 SEPTEMBER 2019
11:00AM - ILHAM WORKSHOPS: Photography Workshop: Experimental Self Portraits with Nadirah Zakariya
---
OCTOBER 2019
5 OCTOBER 2019
3:00PM - FILM SCREENING: Ema Nudar Umanu
12 OCTOBER 2019
ILHAM WORKSHOPS: Woodcut Print-Making By Jerome Manjat
SESSION 1: 10:00AM–1:00PM
SESSION 2: 2:00PM–5:00PM
13 OCTOBER 2019
3:00PM - ILHAM CONVERSATIONS: Featured In Fracture/Fiction: Mella Jaarsma
19 OCTOBER 2019
FILM SCREENING: FRACTURE/FICTION: FILM WEEKEND
2:00PM: Sunya
4:30PM: In The Claws Of A Century Wanting
ILHAM WORKSHOPS: Crochet Bohemian Lace Dreamcatcher Workshop
SESSION 1: 10:00AM – 1:00PM
SESSION 2: 3:00PM – 6:00PM
20 OCTOBER 2019
FILM SCREENING: FRACTURE/FICTION: FILM WEEKEND
1:00PM: Sincerely Yours, Dhaka
4:00PM: #BKKY
---
NOVEMBER 2019
2 NOVEMBER 2019
3:00PM - SPECIAL EVENT: Fractured World - Displacement, Diaspora And Poetry
---
CHILDREN PROGRAMMES
SCHOOL VISITS: Guided Visits
ILHAM KIDS!
Art Discovery Tours for Kids
Relaxing Paint Mornings With Charlotte Sullivan
​Meet Hanna Alkaf, Malaysian Author of "The Weight Of Our Sky"
Comic Drawing Workshops In Collaboration With Pepper Lim
Art Science Workshops In Collaboration With Atom And The Dot
Special Storytelling + Art Sessions In Collaboration With Nor Azhar Ishak
Art-inspired Coding Projects For Kids In Collaboration With Codejuniors
---
ILHAM Gift Shop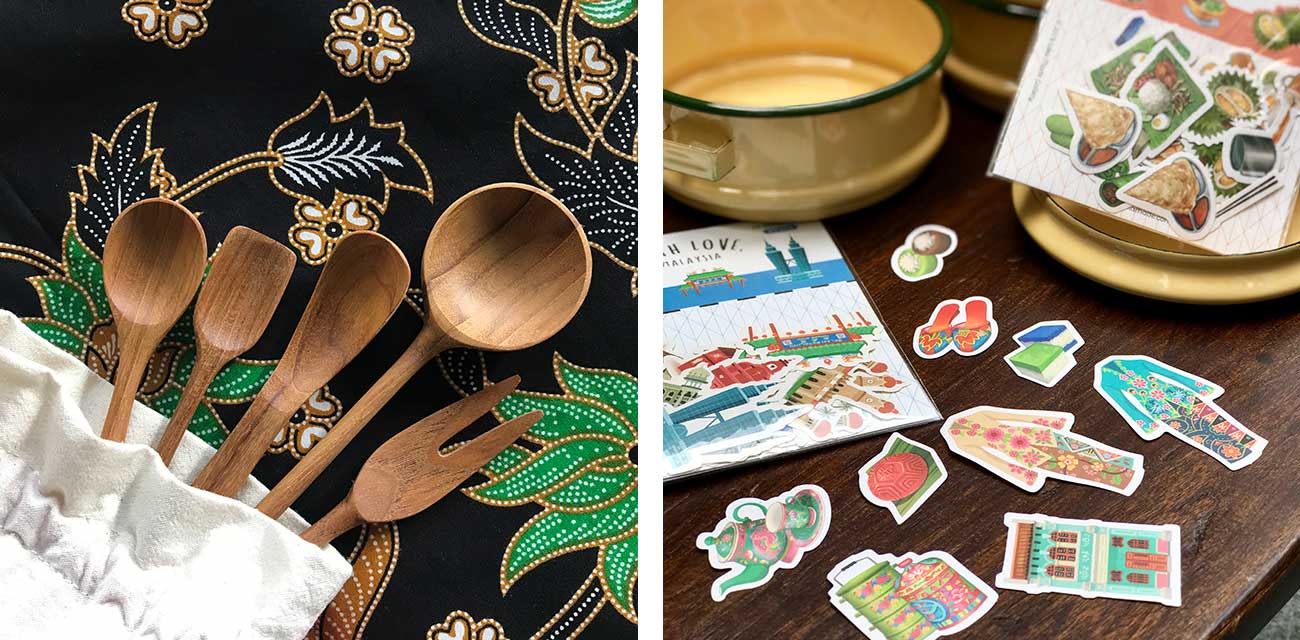 SHOP OPENING HOURS:
TUE–SAT 10.30AM–7:00PM
SUN 10.30AM–5:00PM
The gallery gift shop on the 5th floor showcases a range of gifts and souvenirs which have been carefully sourced from artisans, designers and craftspeople from all over the country. A collection of limited edition prints as well as art books, including the ILHAM catalogues, are also available at the shop.
We also serve coffee and a small selection of cakes.
All profits from the shop play a vital part in supporting ILHAM's public and educational programmes.